If you're a female pilot, love flying and love sharing that passion with others, then we'd love to have you! We provide year-round resources to assist women pilots and to encourage young women to consider flying as a career or for fun.
Since 1941 the AEMSF has awarded almost 800 scholarships plus 275 awards to student pilots earning their first certificate. The amount awarded for these scholarships exceeds $12 Million. PLUS many of our Chapters and Sections offer further scholarships.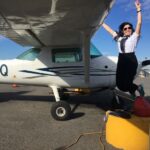 Uncategorized
The Ninety-Nines are very excited to announce that we have been selected as the recipients of a half-million dollar grant from the Conrad N Hilton Foundation!
Read More »