If you're a female pilot, love flying and love sharing that passion with others, then we'd love to have you! We provide year-round resources to assist women pilots and to encourage young women to consider flying as a career or for fun.
Since 1941 the AEMSF has awarded almost 800 scholarships plus 275 awards to student pilots earning their first certificate. The amount awarded for these scholarships exceeds $12 Million. PLUS many of our Chapters and Sections offer further scholarships.
In 2008, through Canada Post's Picture Postage program, Eileen Vollick was celebrated as Canada's first licensed female pilot on a stamp designed by the East Canada Section, Ninety-Nines. The stamp was the Section's first issue and can be used as regular letter postage within Canada. The stamps can be ordered on our website.
As the weather starts to stay warmer and COVID-19 lessens its grip keeping us in-and-out of lockdowns, I hope this video gets you thinking about
Read More »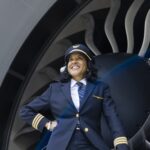 Uncategorized
When: Tuesday, May 18, 2021, 8-10 pm EDT. How: go to https://www.ninety-nines.org/webinars.htm Presenter: Carole HopsonCarole flies the Boeing 737 for United Airlines as a First Officer,
Read More »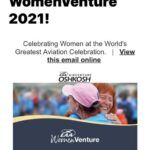 Uncategorized
WOW!!!! Looks like FCC 99s Wendy G and MLC 99s Lisa B are the poster image for EAA Women Venture at Oshkosh AirVenture! 
Read More »
Follow Us on Social Media