CANADA POST HAS CANCELLED THE 'SELF DESIGNED 'STAMP PROGRAM. Once our stamps are sold out, there will be no more available. We have First Day Covers for most of the past stamp honourees, but are sold out for Vi Milstead, Eileen Vollick or Felicity McKendry.
All stamps can be purchased using Visa, MasterCard through Paypal, or you can order with cheque using our printable Order Forms.  
Place all Stamp Orders here…Stamp Orders
SaveSave
SaveSave
SaveSave
SaveSave
SaveSave
SaveSave
SaveSave
2022 Stamp Honouree Anna Pangrazzi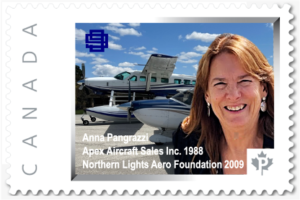 Like many, teenager Anna Pangrazzi had no planned career until her math teacher offered an unusual elective, the private pilot ground school. When completed, he offered students the chance to write the government exam. Anna had enjoyed the course and aced the exam. That summer she took flying lessons and within three months earned her Private Pilot licence.
She was enamoured with a young lad in Toronto and often flew for visits, taking friends to share expenses. Her piloting experiences grew, particularly with border crossings – because she lived in the USA. After a year at university, Anna completed a Commercial licence and an Instrument rating. By then, she had a considerable investment in aviation. She was as smitten with flying as she was with the Toronto lad! She had found a career. But her glasses were a problem. A that time, airlines didn't hire pilots who wore glasses… read more
2021 Stamp Honouree Hella Comat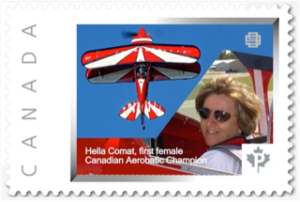 Hella Comat a humble, unassuming woman immediately was smitten with putting the airplane in unusual attitudes, a skill most pilots strive to avoid. She began entering aerobatic competitions, in which most contestants are men. In 1980 Hella Comat was the first Canadian woman to win a Canadian National Championship at the Sportsman level. Meanwhile she started to fly a Pitts Special, and first flew it solo on July 11, 1981. In 1982 she won the Canadian National Championship at the Intermediate level and progressed to the Advanced level in 1983, placing 2nd at the Canadian Nationals.
The Hella Comat stamp launches on July 11, 2021…. read more
2020 Stamp Honouree Emily Crombez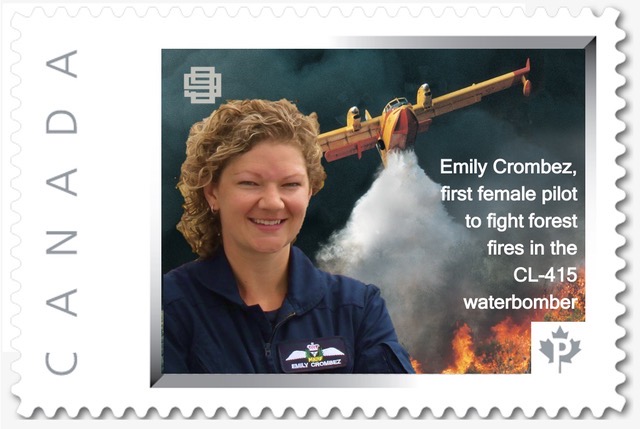 Emily Crombez, the first Canadian female pilot to crew the CL-415 to fight forest fires says, "Firefighting involves scooping up many loads of water and dropping them in a specified fire target area, while often encountering updrafts, turbulence and smoke. You are heavy and slow, performing steep manoeuvers, exercises you are usually taught to avoid."
The Emily Crombez stamp was launched on June 19, 2020 at the Tillsonburg Airport, the anniversary of Emily's first solo on floats. We invite you to help celebrate Emily Crombez's remarkable career by using this beautiful stamp. 
---
Air Race Classic 2019 Commemorative Stamp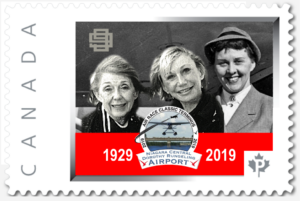 The first Women's cross-country Air Race was held in 1929. From Sunday, August 18 – Monday, Aug. 26, 19 women flew solo from Santa Monica, California to Cleveland, Ohio – a distance of over 3,000 statute miles or 2,600 nautical miles.
By the end of the race most of these women had developed a comradeship which led to the formation of the Ninety-Nines on November 2, 1929, named for the number of its charter members. During the past 90 years has grown to an organization of over 6000 members in several different countries. Thus we are celebrating the 90th anniversary of air racing AND the formation of the Ninety-Nines!
We have chosen the three Canadian women pilots who have flown in the most air races – Dorothy Rungeling, Adele Fogle and Daphne Schiff… read more
2018 Stamp Honouree Capt Mary Cameron-Kelly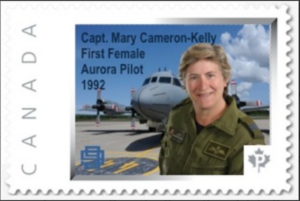 Canadian Forces – Issue Release July 15, 2018
Honouring the first Female Captain of the Aurora aircraft on the anniversary of her joining the military on July 15, 1981,Capt Mary Cameron-Kelly is the first to accumulate over 7000 hours on type while serving at home and abroad… read more 
2017 Stamp Honouree Captain Melissa Haney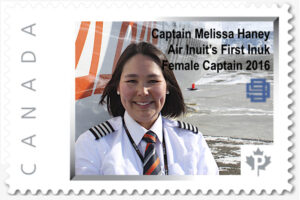 Issued at Inukjuaq, Quebec on August 15th, 2017
Honouring Air Inuit's first Inuk female Captain on the anniversary of he promotion August 15, 2016, Melissa Haney has been blazing the way for Inuit women while serving her northern community… read more
2016 Stamp Honouree Judy Cameron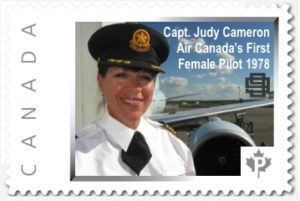 Judy Cameron is the first female pilot hired by Air Canada in 1978, and the first female Captain in Canada on the Boeing 767 in 2006 and Boeing 777 in 2010.
Issued in 2016. During her 40 years flying career, Judy logged over 23,000 hours in Dec-3, Twin Otters, Hawker Siddeley 748, DC-9, Lockheed 1011, Airbus 320, Boeing 767 and 777… read more
2015 Stamp Honouree Major 'Dee' Brasseur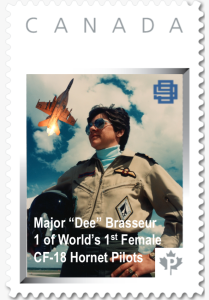 Issued in 2015 – Major 'Dee' Brasseur – Canada's first military flight instructor and one of two first females selected as fighter pilots on the CF18 Hornet, and the first female in the world as an active CF18 Hornet Fighter Pilot…read more
2014 Stamp Honouree Rosella Bjornson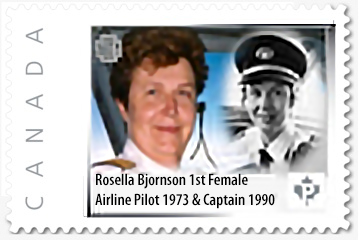 Issued in 2014 – Rosella Bjornson – the first jet qualified female airline pilot in North America, the first female airline Captain in Canada…read more
2013 Stamp Honouree Felicity McKendry

Issued in 2013 – Felicity McKendry – flight test examiner for Canada's first astronauts Steve McLean and Marc Garneau…read more
2011 Stamp Honouree Lorna deBlicquy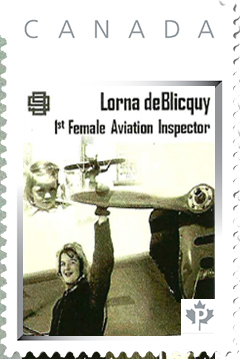 Issued in 2011 – Lorna deBlicquy – first Canadian female Civil Aviation Inspector, Lorna flew in disguise in Saudia Arabia…read more
2010 Stamp Honouree Dorothy Rungeling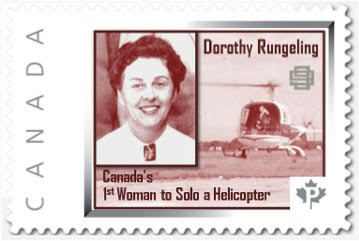 Issued in 2010  – Dorothy Rungeling – Issued on her 99th birthday, Fonthill, Ontario, Canada. Honouring Canada's first women to solo a helicopter, member of the East Canada Section Ninety-Nines, on her 99th birthday… read more
2012 Stamp Honouree Isabel Peppler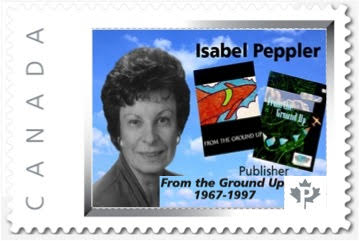 Issued in 2012 – Isabel Peppler – within months of earning her pilot's license, became instructor of most Canadian student pilots…read more
2008 Stamp Honouree Eileen Vollick

Issued in 2008 – Eileen Vollick – first Canadian women to earn a pilots license – parachuted into Hamilton Bay to demonstrate her lack of fear…read more
2009 Stamp Honouree Vi Milstead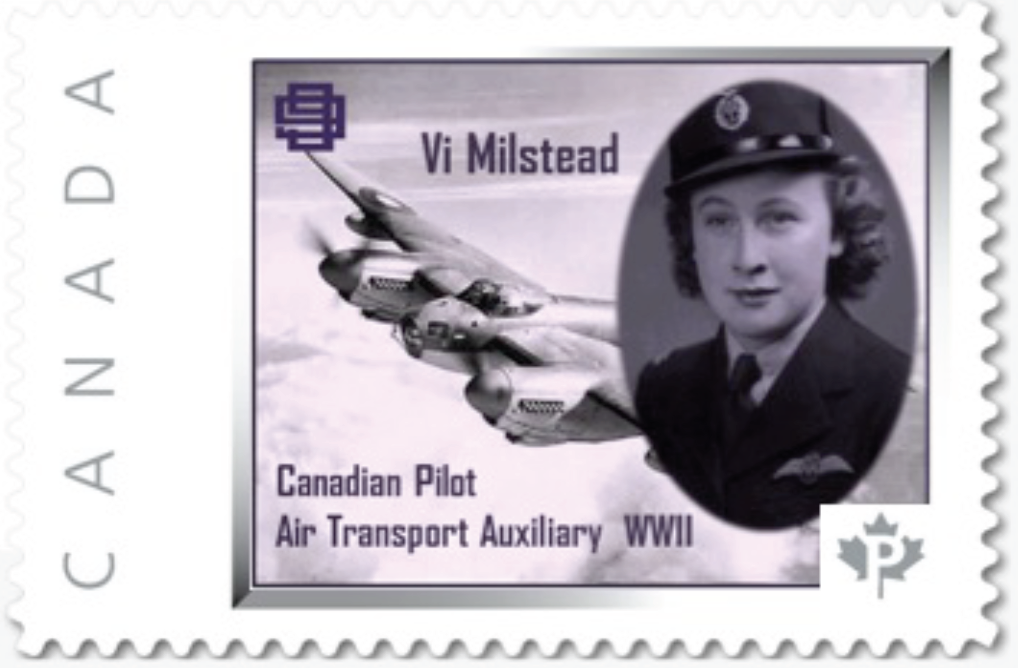 Issued in 2009 – Vi Milstead – during WWII Vi delivered 47 different types of planes within Britain. After the war, she became Canada's first female bush pilot...read more