All stamps can be purchased using Visa, MasterCard through Paypal, or you can order with cheque using our printable Order Forms.  
Place all Stamp Orders here…Stamp Orders
---
CAPTAIN MELISSA HANEY – NEW 2017 – issued at Inukjuaq, Quebec on August 15th, 2017
English version: Honouring Air Inuit's first Inuk female Captain on the anniversary of her promotion August 15, 2016.  Melissa Haney has been blazing the way for Inuit women while serving her northern native community…read more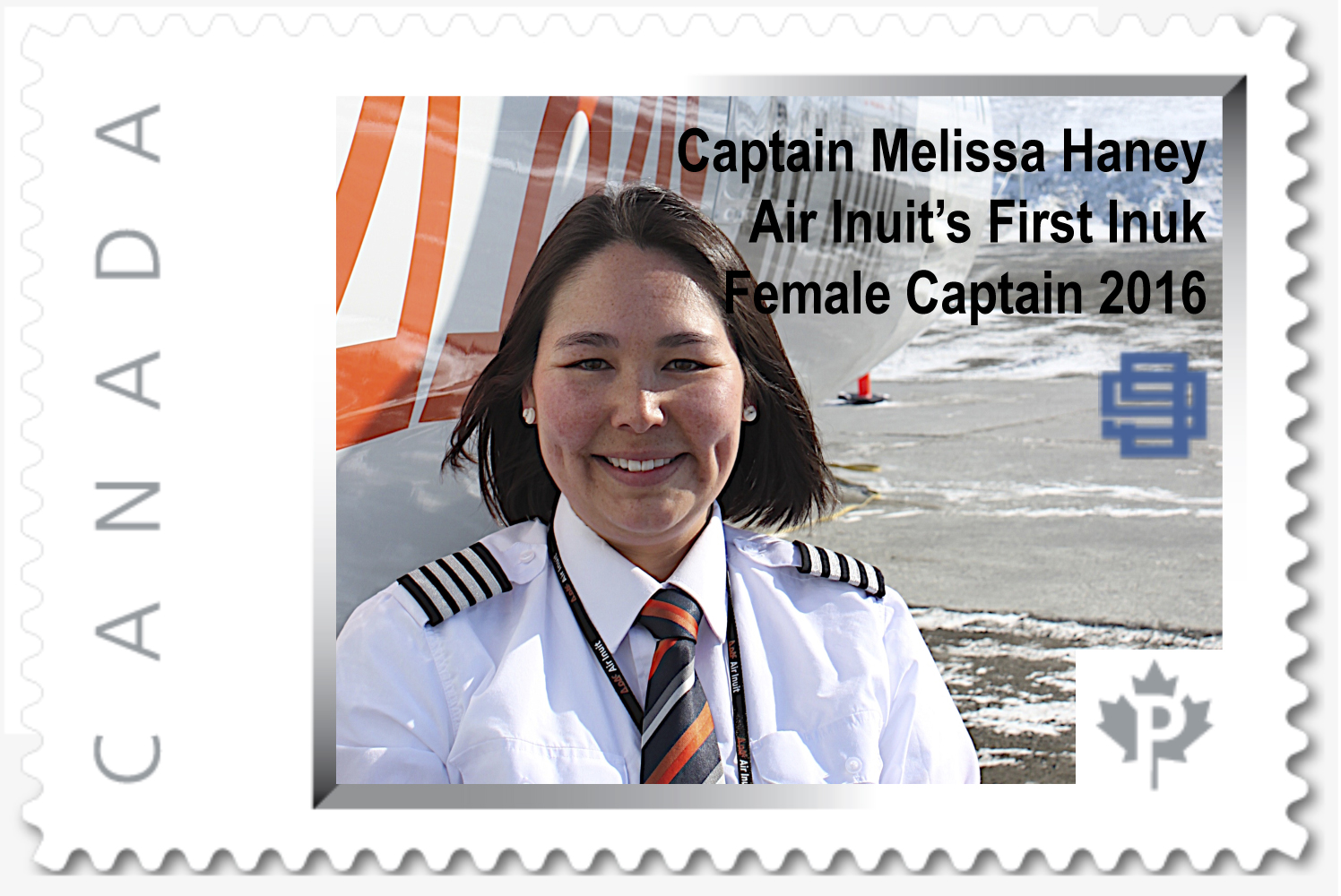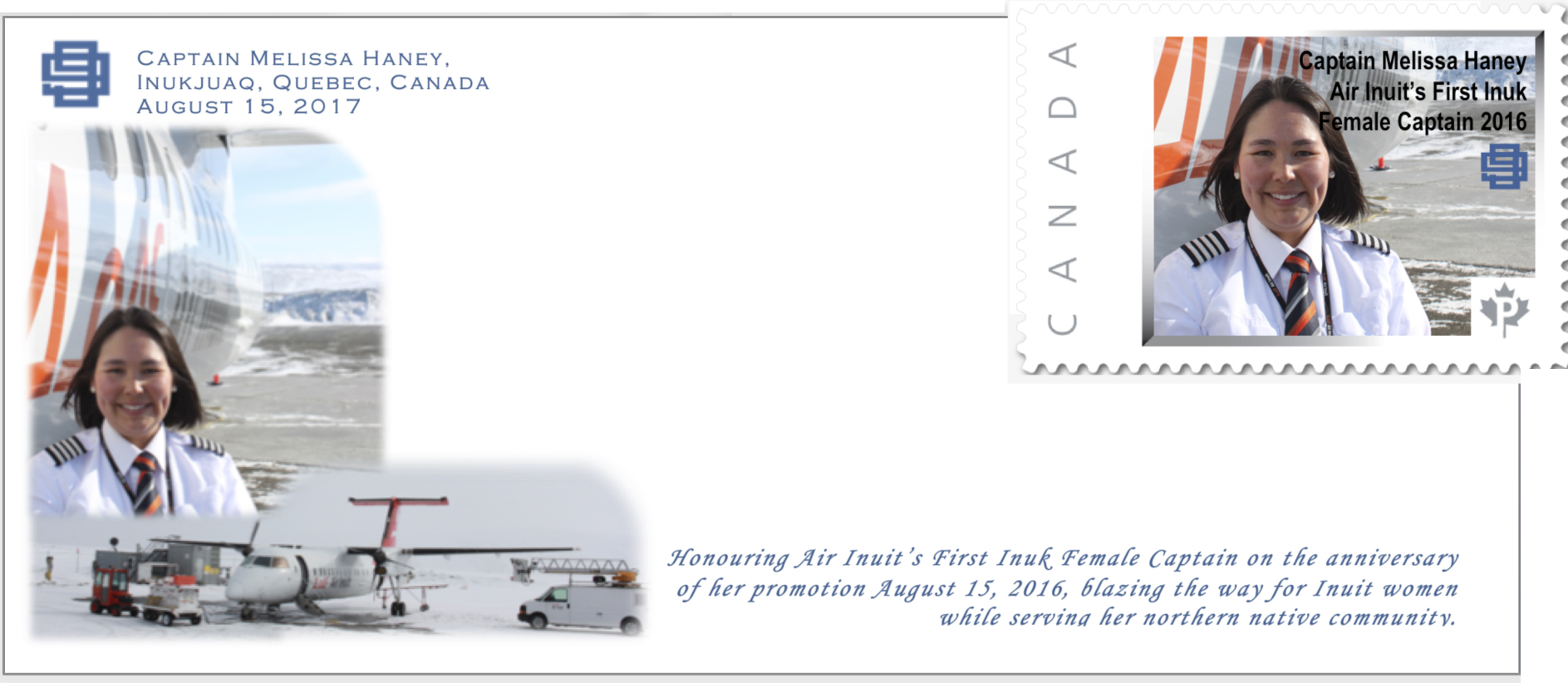 ---
---
JUDY CAMERON
The first female pilot hired by Air Canada, and the first female Captain in Canada of Boeing 767 in 2006 and Boeing 777 in 2010.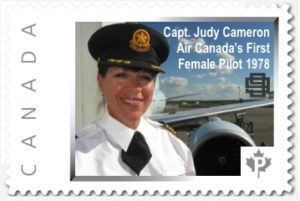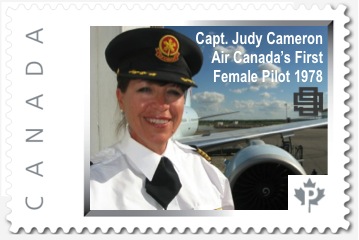 Issued in 2016. During her 40 years flying career, Judy logged over 23,000 hours in Dec-3, Twin Otters, Hawker Siddeley 748, DC-9, Lockheed 1011, Airbus 320, Boeing 767 and 777… read more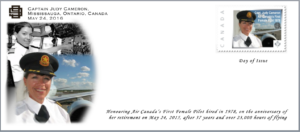 ---
---
MAJOR 'DEE' BRASSEUR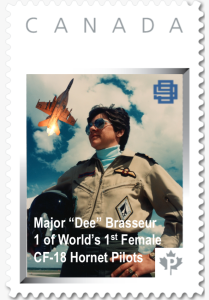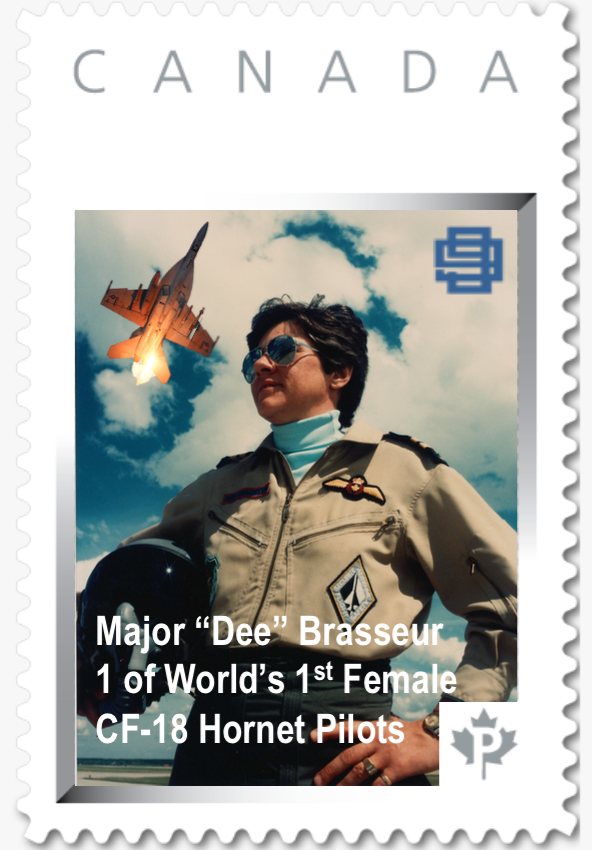 Issued in 2015 – MAJOR 'DEE' BRASSEUR – Canada's first military flight instructor and one of two first females selected as fighter pilots on the CF18 Hornet, and the first female in the world as an active CF18 Hornet Fighter Pilot…read more
---
---
ROSELLA BJORNSON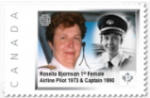 Issued in 2014 – Rosella Bjornson – the first jet qualified female airline pilot in North America, the first female airline Captain in Canada…read more
---
---
 FELICITY McKENDRY

Issued in 2013 – Felicity McKendry – flight test examiner for Canada's first astronauts Steve McLean and Marc Garneau…read more
---
Issued in 2012 – Isabel Peppler – within months of earning her pilot's license, became instructor of most Canadian student pilots…read more
---
---
LORNA DeBLICQUY

Issued in 2011 – Lorna deBlicquy – first Canadian female Civil Aviation Inspector, Lorna flew in disguise in Saudia Arabia…read more
---
---
 DOROTHY RUNGELING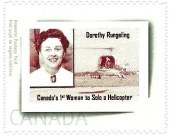 Issued in 2010  – Dorothy Rungeling – Issued on her 99th birthday, Fonthill, Ontario, Canada. Honouring Canada's first women to solo a helicopter, member of the East Canada Section Ninety-Nines, on her 99th birthday… read more
---
---
 VI MILSTEAD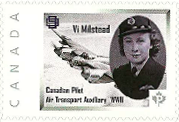 Issued in 2009 – Vi Milstead – during WWII Vi delivered 47 different types of planes within Britain. After the war, she became Canada's first female bush pilot...read more
---
---
 EILEEN VOLLICK

Issued in 2008 – Eileen Vollick – first Canadian women to earn a pilots license – parachuted into Hamilton Bay to demonstrate her lack of fear…read more
---
---