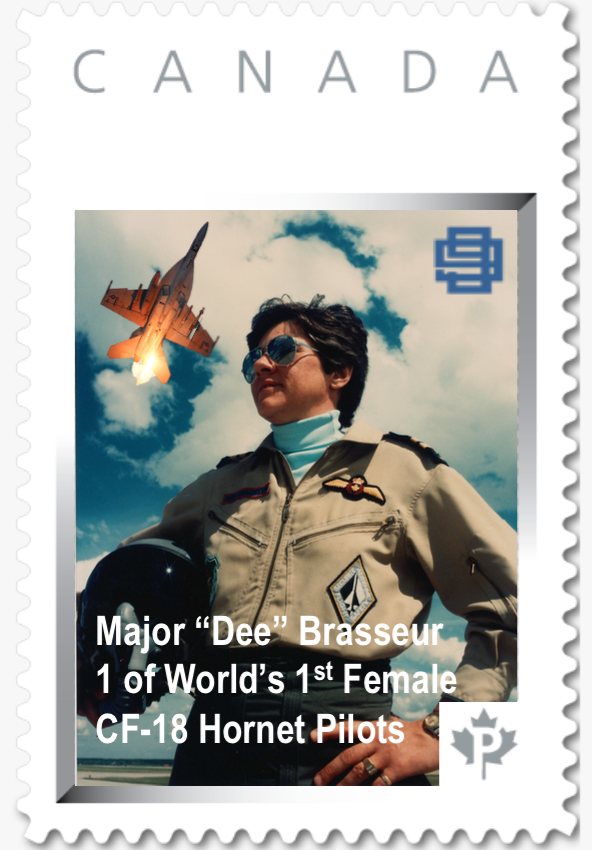 Our eighth stamp celebrates Deanna (Dee) Brasseur and her career as one of the first women to be trained as a Canadian Forces pilot.
Designed by First Canadian Chapter member Suzanne Wiltshire, the stamp features Dee with her dream plane, an F18 Hornet over her shoulder. First Day Covers will be cancelled in Centralia on June 9, the anniversary of Dee's graduation.
Dee Brasseur stamps will be introduced at the Exeter High School at 1:30 p.m., June 9, where Dee will speak to to an assembly of secondary students about dreaming big dreams and then living those dreams.
Dee lived in Centralia where her father was based with the RCAF. She recalled that in 1965, at age twelve she bicycled to the nearby Royal Canadian Air Force Station Centralia airport and peered through the fence to watch the Chipmunk aircraft taking off with air force training pilots learning to fly. As she watched for hours on end, she dreamed "the impossible dream", and wished that she could fly. For her that was not possible – because she was a girl!
Thirty-two years later, in June 1998, she was again watching planes taking off from the Centralia Airport to participate in the Grand Bend International Air Show. From her vantage point in the control tower she could practically see that kid on the bicycle pressing her nose against the fence. As the CF18 Hornet suddenly appeared on approach for landing, she felt a lump in her throat and a tear in her eye. She had achieved her dream! She had flown that plane at Mach 1.8, almost twice the speed of sound – 31.9 km/min! The following morning, her presentation to fifteen hundred students held a special significance as she described her career with the Canadian Armed Forces and encouraged those young minds to follow their own dreams!
Following her father's lead, Dee joined the military in 1972 . After months of listening to the dental drills as the administration clerk in the Dental Clinic, Dee decided she was not "Being all that she could be," and applied for a commission. Her posting to North Bay as an Air Weapons Controller put her in contact with many pilots and several jet aircraft and after two orientation rides in 1978 Dee started taking lessons to obtain her private pilot licence.
When the military started a trial program for women pilots in 1979, Dee was one of four women selected for the program. This was not as positive a situation as Dee had imagined! She loved the flying, but was frustrated by some of the attitudes she encountered. Though there were a few "Good Men" who were supportive and encouraging, there were many others within the macho environment who abused the power of their rank and position. The women were often unnerved by unwanted advances and sexual innuendos. Coursemates envied the media attention and tried to minimize the women's successes by suggesting that the women were given privileged assignments simply because they were women. Though the military tried to deflect publicity, these four women were very much in the public eye. In spite of the environment, three of the four graduated with glowing colours. Dee loved the flying!
Following wings graduation in 1981, Dee became the first and only female instructor. However not until her remarkable emergency forced landing following an engine failure at night, did she feel truly accepted by her male colleagues. In 1988 at age 35 she was one of two women accepted for fighter pilot training. Again in the public eye, and constantly compared with young men, Dee excelled. After completing the training, she was posted to 416 Squadron Cold Lake, AB where she flew her "dream" – the CF18 Hornet! In 1994, after 21 years, Dee retired from the Canadian Armed Forces. Only after retirement did she feel safe to reveal the sexual harassment she had experienced. Maclean's magazine featured her twice in 1998, first in a June issue on sexual abuse and again in their December Annual Maclean's Honour Roll, naming Dee for her courage in dealing with it. More than sixteen years later, May 13, 2015, a Globe and Mail writer wrote "But it was the passing comment of a retired female air-force trailblazer that provided the simplest and most compelling analysis of how to address these issues. In a televised CBC story on the April 2015 release of the Deschamps report on sexual misconduct in the Canadian Forces, Dee Brasseur was remarkably optimistic, noting that if leaders openly and definitively embraced the need for change, their subordinates would follow , given the military's command- and-obey ethos." Dee has no regrets and remains optimistic as she continues her professional speaking career, encouraging her audiences to follow their dreams.
In 1995-96 Dee formed, trained and led the first ever all women Canadian Precision Flying Team to participate in the World Precision Flying Championships hosted by the 99's in Fort Worth Texas. The team received the COPA Outstanding Achievement award for 1996.
Following the events of 9/11 and Canada's commitment to the war on terrorism in Afghanistan, Dee returned to her roots and donned the RCAF uniform once again as a Reserve Officer in 2002 and served with the Directorate of Air Strategic Plans until retiring in Sep 2013.
Dee has a special commitment, having acquired Post Traumatic Stress Disorder and recovered. In 2010 she started the One in a Million project to raise money for research, education, treatment and support for "Canadians Who Serve" and suffer from PTSD.
The Canadian Ninety-Nines are thrilled to celebrate Dee's remarkable career with their 2015 stamp, which is available in four formats. With each order you will receive a brief bio which we encourage you to copy and send with correspondence when you use the stamps. Orders may be placed using paypal on the canadian99s.com website.
Dee Brasseur stamps are available in four formats. With each order purchasers receive a brief bio which we encourage them to copy and send with correspondence when using the stamps.
Domestic Postage sheets of 50 can be used as regular letter postage, even after future rate increases – $80.
A booklet of 12 stamps is useful for those desiring a smaller quantity for regular letter postage – $22.
The Keepsake sheet features 25 regular sized stamps plus one large stamp – $45.
A limited number of First Day Covers are available for $5 each. They will be of particular interest to the stamp collectors among friends and family.
Sheets of 50 stamps, Keepsake sheets and First Day Covers may be ordered directly on this site with credit card or by printing the order form and mailing it, along with a cheque, to Bev Fraser, Box 56060, Fiesta Outlet, Stoney Creek, ON, L8G 5C9. An additional $4 cost will be required for mail orders.
Please note that Dee Brasseur stamps are not available at postal outlets.