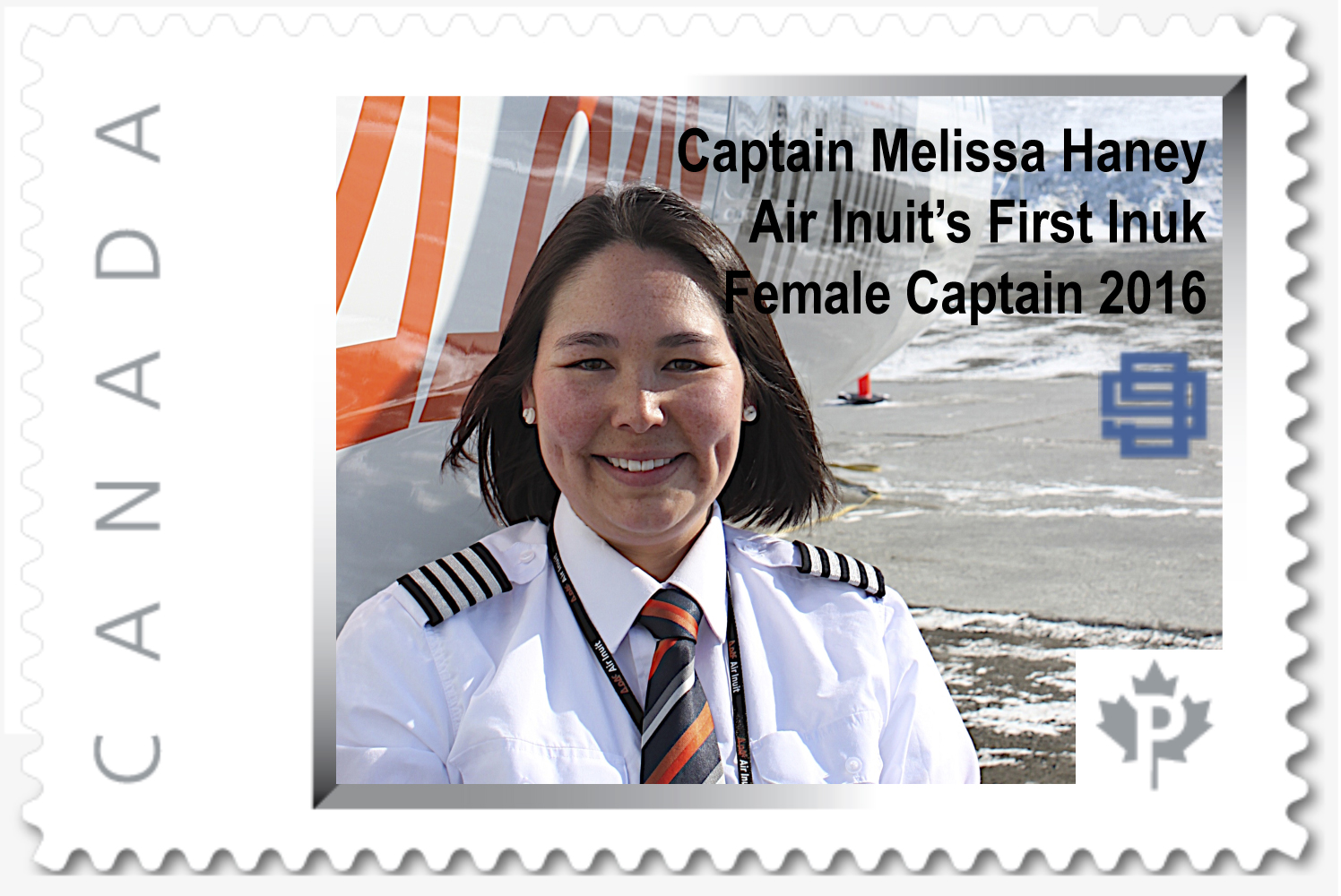 In 2017, for our tenth stamp we look to the promise of our youth and their future. We celebrate the career of Melissa Haney, a young woman who in 2016 became Air Inuit's first female Inuk captain – a wonderful role model for all young people.
Born in 1981, Melissa lived in Inukjuak, Nunavik (Quebec) the hometown of her late father, until her mother's work as a teacher took her to Umiujaq and Kuujjuaq. As a youngster she knew aviation as an ordinary means of transportation – for medical and dental visits or vacations. For her, flying was quite natural. During flights she now regularly reconnects with friends and relatives.
Melissa began her career with Air Inuit as a flight attendant. She learned the vagaries of weather in the north and became familiar with the route up the coast of Hudson Bay. But she knew she wanted to fly the plane! She learned to fly in southern Canada in a comparatively moderate climate. There were several airports available, often within a few miles of each other – with much longer runways than required. She now flies a Dash 8 Combi-300, which can carry 45 passengers and 4000 pounds of cargo, requiring a runway of at least 3,280 ft. She frequently lands on 3,500 ft. runways! Winters on her routes, with storms, blustery winds and poor visibilities, last longer than in southern Canada. But she loves it, "Seeing Nunavik from that angle, I am able to see all the villages, the wildlife, the icebergs."
The north is bred into her bone marrow – the howling winds, bleak snowy landscapes, several months of long dark nights, followed by a short period in the summer with no night at all. Like her idol and mentor, Johnny May, the first Inuk bush pilot in Nunavik, Melissa cares deeply for people in Canada's north, and their cultural history, and does all she can to help connect southerners with them.
Melissa's most memorable flight involved flying passengers from Salluit to an inland camp while "the weather was going down all along the coast".
She eventually landed on an old runway. By luck, some passengers had a cabin nearby. They also had an all-terrain vehicle on board. Some people travelled to the cabin and started a fire, while others went hunting and brought back a caribou. Once the weather cleared, Melissa flew the group back to Salluit.
Melissa and her husband Pierre-Olivier, another Air Inuit Dash 8 captain share parenting of their young children, Julien and Olivia, during their 28-day work cycle, each spending an average of 10 days in the air.
A beautiful design by Suzanne Wiltshire, the Melissa Haney stamp was introduced at Air Inuit's Montreal facility on August 15, the first anniversary of Melissa being promoted to captain. Profits from stamp sales honour other people and groups' contributions to aviation, support flying events and preserve historical materials. We invite you to copy and enclose in your mailings this brief bio so more people can learn about this remarkable young woman.
You can order Melissa and other women who played a role in our Canadian aviation history… stamp page link here
The East Canada Section, Ninety-Nines are thrilled to celebrate these remarkable women with the custom postal stamps.
All the stamps are available in four formats. With each order purchasers receive a brief bio which we encourage them to copy and send with correspondence when using the stamps.
Domestic Postage sheets of 50 can be used as regular letter postage, even after future rate increases – $85.
A booklet of 12 stamps is useful for those desiring a smaller quantity for regular letter postage – $24.
The Keepsake sheet features 25 regular sized stamps plus one large stamp – $45.
A limited number of First Day Covers are available for $7 each. They will be of particular interest to the stamp collectors among friends and family.
Sheets of 50 stamps, Keepsake sheets and First Day Covers may be ordered directly on the stamp order page with credit card or by printing the order form and mailing it, along with a cheque, to Bev Fraser, Box 56060, Fiesta Outlet, Stoney Creek, ON, L8G 5C9. An additional $4 cost will be required for mail orders.
Please note that these stamps are not available at postal outlets.