By Noemie Gombert and Gina Hurtatiz
C-FLUG is a Cessna 150 located at the Lyncrest Airport, on the outskirts of Winnipeg, Manitoba.  Owned by the Manitoba Chapter of the  Ninety-Nines.  The purpose of C-FLUG is to provide women pilots with an economically feasible opportunity to stay current, build hours, connect with airline pilots and get to know other pilots. C-FLUG has played an important role enabling First Officers to build the Pilot in Command hours needed to become Captains; private pilots to build the hours needed to earn advanced ratings; and pilots who don't own a plane to stay current.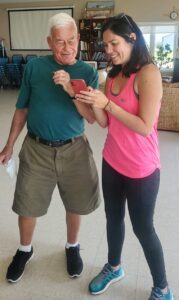 After just a few hours during our trip, we were already meeting so many people, with different backgrounds, a lot of stories, airplanes to show. We were thrilled to get to know these pilots and started to get familiarized with them. The "Club House" from Springfield Flying Club is always full of people ready to chat around a cup of coffee…
The guys from the clubhouse are a friendly Manitoba group of pilots. They are always ready with a cup of coffee, advice about flying, a joke about our landings, or a useful recommendation for our cross-country.  They have all sorts of stories and a multitude of pictures to show, like the time they went to Oshkosh.
On our first day, we had a full ground check, and we loved that they want women to teach other women how to do things. We had to get three checks by experienced pilots, so that way, we would know all the rules from the flying club and the ones from the C-FLUG. The aircraft is a nice Cessna-150 with pink and burgundy stripes, and the emblem of the 99s. 
We had the chance to use grass runways, which we never did until then. The manager of the airport and total sweetheart, Jim, started laughing and told me "Oh! you never flew on grass before? Then you aren't a real pilot" Taking off smoothly, in a totally new environment, The Prairies. 
Flying over the Prairies
For someone who has only flown in Quebec, being here is totally different. The terrain is flat, forest and fields for miles, it is very easy to lose our track. Going back to the basics, without our precious GPS, that we rely maybe too much on, we now have our maps. We had to get familiarize to a completely new territory, which is pretty exciting. In the first few days, we managed to build some hours.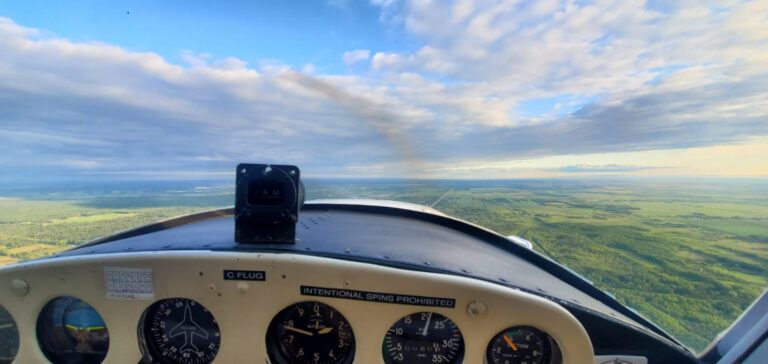 What are we doing in our non-flying time?
It has been a lot of fun every day.  On our first day,  we were able to go see a park full of aircraft that were donated after WW2. They were mostly trainers aircraft, but it was nice to be able to see them from so close. Two little girls next to those huge machines, with their heart full of dreams. This trip has been for me a moment of discovery. I'm learning not only as a pilot, but also as a person. We are meeting so many people with inspiring stories, explaining that there isn't one path for success. Success is being happy and when we fly, in my opinion, we are the happiest.
Friendship in Springfield Flying Club 
The sense of community here is very strong. Everyone knows everyone and every content of their hangars. In just a few days, we had to remember more than thirty names and even more kinds of aircraft.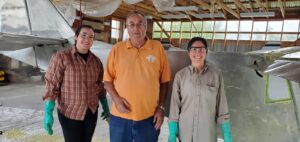 Over here, we have the help of a wonderful woman, Jill. She is like our mom. She takes care of us, opened her home to us, with open arms, I might add. Not only that, but she even let us fly with her on her Land Africa. Great flight and for us, it was the first time flying with a stick. Like Jim said jokingly, "You've never flown with a stick? You aren't a real pilot". With all the experience that we gained in just a few days, we feel more confident and a bit more like 'real' pilots. We came here to build hours, but realized that it's way more than that.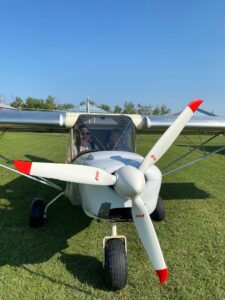 C-FLUG brings together not only the girls that fly her, but so much more. We realized that a whole team over 80 volunteers are working together to make this dream possible.  This summer, women from Manitoba, Kelowna – BC,  Guelph – ON, Nigeria, Montreal, and Colombia (South America) are flying C-FLUG.  If anyone is interested in flying her, contact Jill[email protected]  Or click here: C-FLUG
Thanks to Robin Hadfield for the advice about this experience. 
In the next article, we will follow up on our adventures here in the Prairies.