Lorna Bray deBlicquy – Canada's First Female Civil Aviation Inspector
From early childhood, Lorna Bray loved airplanes. Strong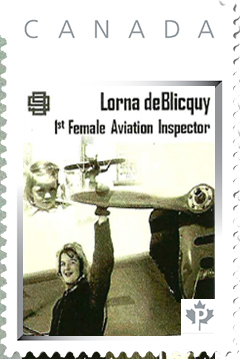 ly committed to learning to fly at fourteen, at fifteen she became the
youngest Canadian to skydive. At sixteen she completed her private licence, when there were few career opportunities for female pilots. Completing a Commercial Licence in 1952 and BA in 1953, her first career was high school teaching. A part time flight instructor, she confirmed her pas- sion for flying and soon moved to aviation as herfull-time career.
Lorna summarized her career in Canadian Ninety-Nines: Here and Now, 2006, as follows: 
"I also earned a Commercial Helicopter Licence which I never used, and a Private Glider Licencewhich I used with joy. Endorsements included Seaplane, Class 1 Instructor, Towing, Multi-Engine, Instrument, and Designated Flight Test Examiner. Favourite aircraft included the Canadian FleetCanuck, twin Otter, Beaver with big tires, and working types like the DC3 and Waco Standard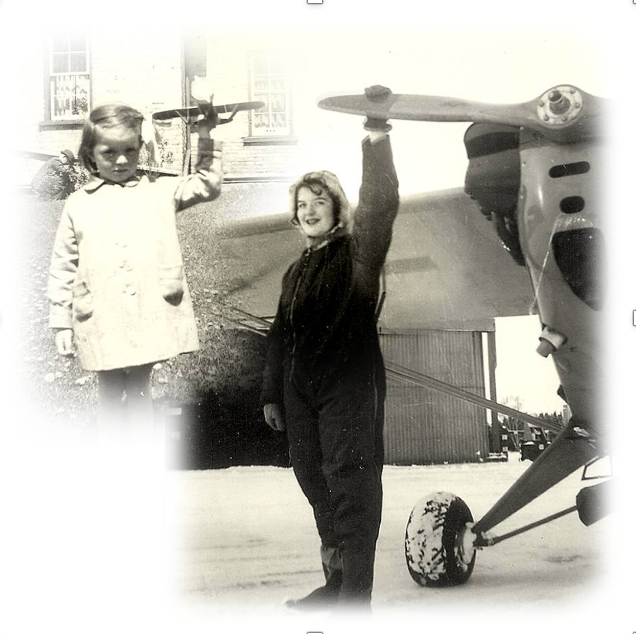 Flying has taken me to many parts of the globe – to northern Ontario and Manitoba, including Thompson, before Thompson existed, and the high Arctic islands north of Resolute Bay. I instructed in New Zealand, flew famine relief in Ethiopia in 1986, and flew in Saudi Arabia semi-disguised. In 1977 I was hired asa Department of Transport inspector, an achievement of which I am proud.
I have had the best flying life possible for one who never wanted to do anything else, as a Canadian who was healthy, reasonably well educated, with the ability and breaks needed to pay my own way. I worked after school to pay for an early start, with the guarded sup- port of both bewildered parents. I am lucky, thankful and pleased to have spent most of my life doing what I loved. I would not change anything – except it might have been nice to be born thirty years later."
Lorna had a strong sense of fairness. She never wanted to be given a position simply because she was a woman. Neither did she want to be denied a position because she was a woman. She strongly believed that everyone should be treated fairly based on their abilities, knowledge and experience, herself included. At times she was outspoken in efforts to achieve thatfairness for herself and others.
In 1995 Lorna was awarded an Order of Canada and was inducted into Canada's Aviation Hall of Fame in May, 2014.
Through her career Lorna advanced aviation in Canada and also brought credit to Canada within the international community. She was a dedicated and talented pilot who has inspired many of us, young and not so young, to follow our dreams to pursue careers in aviation or achieve excellence even when flying recreationally. Though Lorna died March 21,2009, she continues to be a role model for many pilots, women and men, particularly those fortunate enough to have known her.
Designed by Suzanne Wiltshire, the commemorative stamp was introduced on October 19, 2011, the 65th anniversary ofLorna's first experience of flying.
By Lorna deBlicquy and Marilyn Dickson
You can order Lorna's and other women who played a role in our Canadian aviation history… stamp page link here
The East Canada Section, Ninety-Nines are thrilled to celebrate these remarkable women with the custom postal stamps.
All the stamps are available in four formats. With each order purchasers receive a brief bio which we encourage them to copy and send with correspondence when using the stamps.
Domestic Postage sheets of 50 can be used as regular letter postage, even after future rate increases – $85.
A booklet of 12 stamps is useful for those desiring a smaller quantity for regular letter postage – $24.
The Keepsake sheet features 25 regular sized stamps plus one large stamp – $45.
A limited number of First Day Covers are available for $7 each. They will be of particular interest to the stamp collectors among friends and family.
Sheets of 50 stamps, Keepsake sheets and First Day Covers may be ordered directly on the stamp order page with credit card or by printing the order form and mailing it, along with a cheque, to Bev Fraser, Box 56060, Fiesta Outlet, Stoney Creek, ON, L8G 5C9. An additional $4 cost will be required for mail orders.
Please note that these stamps are not available at postal outlets.