Vi Milstead
Our 2009 stamp honoured Vi Milstead Warren who contributed to Canadian aviation in several areas. Designed by Ninety-Nines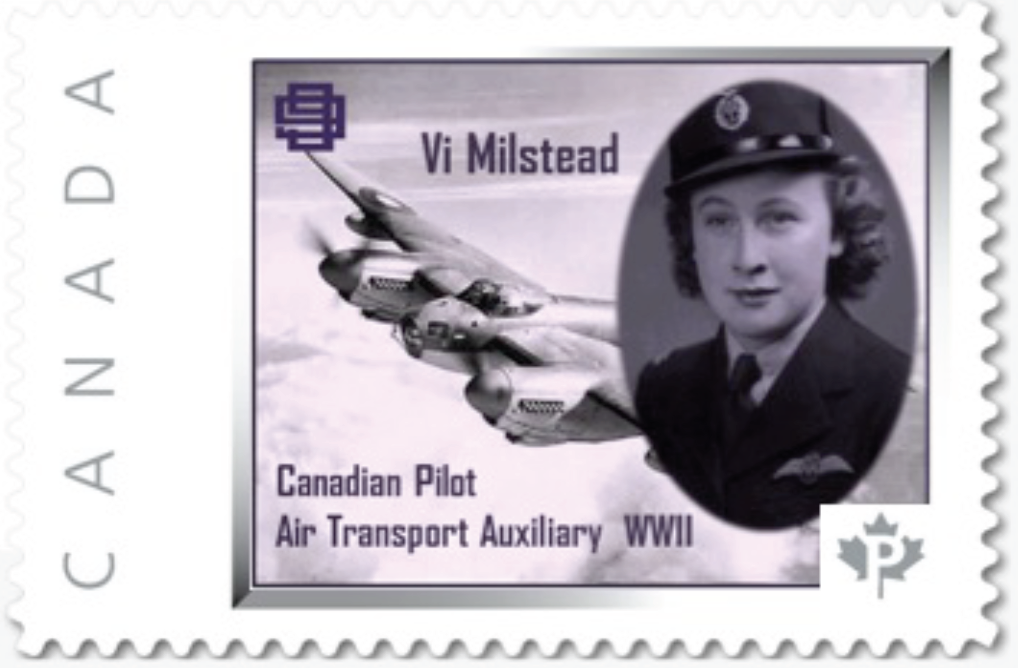 member Suzanne Wiltshire, the stamp features a portrait of Vi in her Air Transport Auxiliary (ATA) uniform in England during the second World War. Behind her is a twin engine Mosquito, one of 47 different planes she flew.
Taken out of school at fifteen, Vi worked for four years, saving money to pay for flying lessons – a huge commitment when few females were interested in becoming pilots.
As war was declared in Europe Vi had her first flying lesson. By December 14, 1939 she earned a Private Pilot Licence. Three months later, Vi completed the Limited Commercial Licence. Her instructor Pat Patterson produced a film Learning To Fly chronicling her lessons. He wanted to entice students to his flight school. No doubt he chose Vi to show that even femalescould fly.
Vi was one of the first Canadian women to work as a pilot. The war had stimulated considerable interest in flying among young men. With many joining the air force, Patterson found it difficult to keep instructors. He promised to hire Vi if she qualified as an instructor.
To Vi this was a wonderful offer. She earned her Instructor Rating in July 1941 and then instructed at Barker Field. She taught many students to fly, including a few women. Several male students joined the RCAF, distinguishing themselves during the war and afterwards with aviation careers. Vi continued to instruct until wartime fuel rationing ended civilian flying, in November 1942.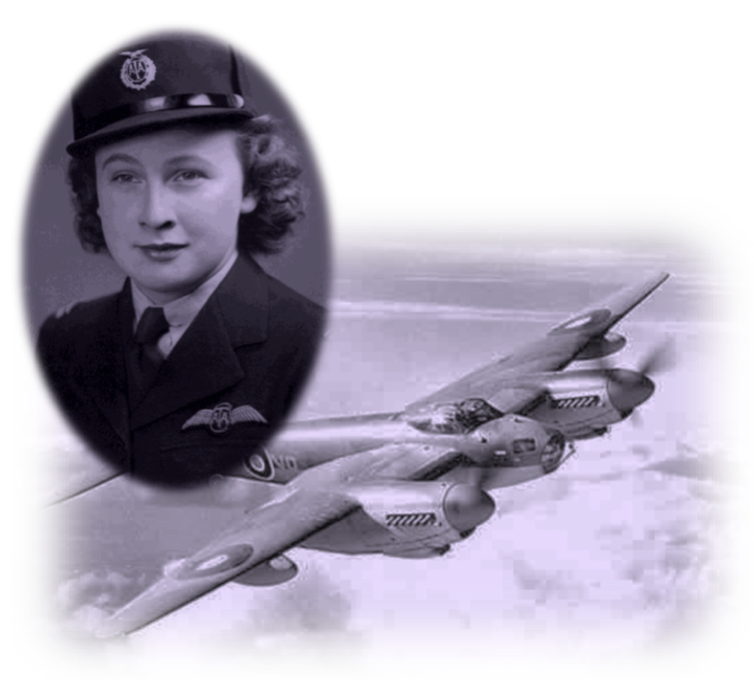 When Vi looked for another job, she was hired by the ATA in Britain to deliver military planes from factories to air force bases. Promoted to First Officer, Vi was the longest serving Canadian female ATA pilot. She flew Spitfires, Mosquitos, Hudsons, Beauforts and many others.
After the war, though her parents hoped she had "gotten that out of her system", Vi returned to instructing. In 1947 she became Canada's first woman bush pilot with Nickel Belt Airways in Sudbury, flying surveyors to mining sites or trappers returning home with supplies. She also flew men recruited to fight local forest fires, occasionally having to encourage someone to leave the comfort of the airplane and get on with fire-fighting.
Vi and her husband Arnold Warren moved to Colborne after their retirement. They spent summers in the Magdalen Islands and winters in Colborne, often flying back and forth in their Piper Cub or Mooney airplane. For years they were active through the Rotary and Inner Wheel clubs. Vi also volunteered at Second Helpings, the Colborne Elementary School and delivering Meals on Wheels.
Vi lived near Colborne, Ontario in a log home featuring a wind generator and solar panels until she died June 27, 2014. Her honours include an Amelia Earhart medallion, induction into the International Forest of Friendship, Member of the Order of Canada, induction into Canada's Aviation Hall of Fame, and the Queen's Diamond Jubilee medal.
By Marilyn Dickson
The East Canada Section, Ninety-Nines are thrilled to celebrate these remarkable women with the custom postal stamps.
All the stamps are available in four formats. With each order purchasers receive a brief bio which we encourage them to copy and send with correspondence when using the stamps.
Domestic Postage sheets of 50 can be used as regular letter postage, even after future rate increases – $85.
A booklet of 12 stamps is useful for those desiring a smaller quantity for regular letter postage – $24.
The Keepsake sheet features 25 regular sized stamps plus one large stamp – $45.
A limited number of First Day Covers are available for $7 each. They will be of particular interest to the stamp collectors among friends and family.
Sheets of 50 stamps, Keepsake sheets and First Day Covers may be ordered directly on the stamp order page with credit card or by printing the order form and mailing it, along with a cheque, to Bev Fraser, Box 56060, Fiesta Outlet, Stoney Creek, ON, L8G 5C9. An additional $4 cost will be required for mail orders.
Please note that these stamps are not available at postal outlets.