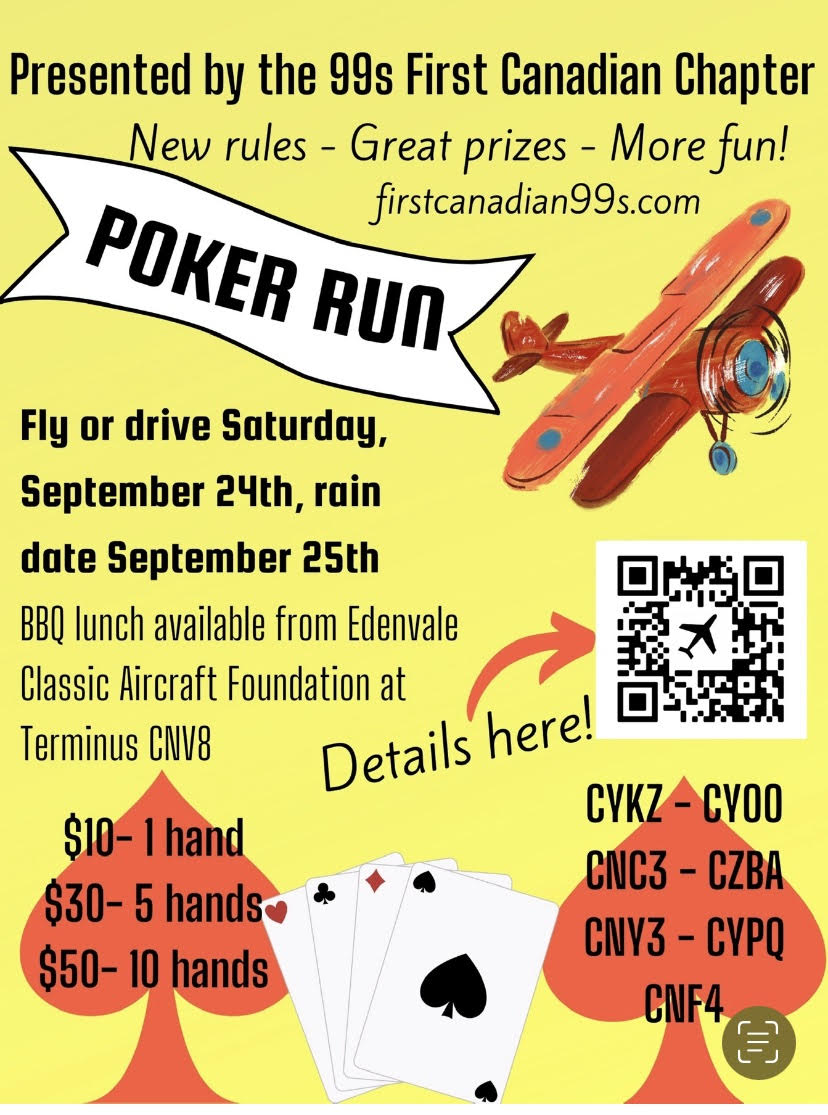 For the first time, Ground Vehicles are welcome to "drive" the Poker Run
Everyone is encouraged to participate!  Poker hands can be flown/driven by a surrogate.
Each Poker hand scoresheet represents one entry. 
Poker Scoresheets can be printed off http://firstcanadian99s.com/2020-annual-poker-run/and filled in prior to arrival. Please ensure all information is legible & completely filled in.
Register, pay and draw the FIRST 2 CARDS for each hand.
Planes fly to a 2nd airport for 2 CARDS per hand then to Edenvale to pick a final card.
Vehicles proceed directly to Edenvale Terminus where they pick 3 final cards
At each airport the attending 99s will stamp and initial all cards.
ALL aircraft/vehicle 'fly/drive' bought Hands are eligible for a prize, including those of persons not physically present.
Arrive Edenvale/CNV8 Terminus by 12:30 p.m. and submit hands.
ECAF – Edenvale Classic Aircraft Foundation Has offered to do a BBQ lunch for us for a nominal cost. Their doors will open at 11.30 a.m., lunch starting at 12 noon.
Please RSVP to Wendy Cragg, chairwendy@firstcanadian99s.com, or Adair Jacobs, vicechairadair@firstcanadian99s.com by Tuesday September 20 to ensure adequate supplies can be purshased.
Start at any of the designated airports
 Buttonville, CYKZ, 9:00 – 10:30
 Oshawa, CYOO, 9:00 – 10:30
 Burlington, CZBA, 9:00 – 10:30.
 Brampton, CNC3, 9:00 – 10:30 m.
 Peterborough, CYPQ, 9:00 – 12:00
 Lindsay, CNF4, 9:00 – 12:00
 Collingwood, CNY3, 9:00 – 12:00
HOW MUCH ARE THE POKER HANDS
 Single Hand – $10 /  5 Hands – $30  /  10 Hands – $50
All proceeds go towards the First Canadian Chapter 99s awards, scholarship and educational programs
POKER HAND RANKING
Judging will be according to standard Draw Poker. The judges' decision is final. Anyone who 'flies/drives' a winning hand is responsible for picking up the prize at the terminus and delivering it to the owner of the winning hand.
This years prizes
include:
1 year subscription to SiriusXM weather plus music $1,600.00 value.

1 year ForeFlight subscription
1/2 day sailing with Robin and Dave on their boat Drake III
Case of aviation oil and filter from Leggat Aviation
2 tickets to NLAF Gala
Red Canoe – 3 fabulous hats
Threshold Aviation – 3 prizes
Dee Birchmore original artwork plus notecards

Aircraft Spruce: $50.00 gift card x 2

Threshold Aviation: One hour 737 flight simulator session x 3
Nemo Scout

From Upright Aviation Academy – a Super Decathlon Aerobatic Experience – value $399.00

Malivoire wines
Check back as we hope to add more to this list!
Fly/Drive Safe & Have Fun!
Follow Us on Social Media