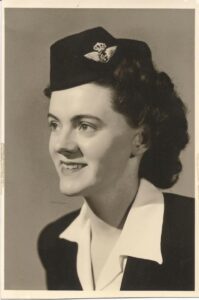 PHYLLIS (PENNEY) GAUL was Newfoundland's first female pilot.  She was born in St. John's, May 29, 1925. By the time the family had moved to historic Harbour Grace in 1931, the dawn of aviation had arrived. Charles Lindbergh flew over St. John's in 1927 and many great aviation events were written in to Newfoundland's history, including Amelia Earhart's arrival and departure.
One of Phyllis Penney's fondest memories was that of a school holiday given immediately, when news was received of an aeroplane landing. The children were all permitted to run, walk or be driven to the airport to join in the excitement with the rest of the people. Many school books were left behind eliminating homework those nights. Her father, who owned one of the few cars in town, used to drive some of the pilots and crew to and from the airport from The Cochrane Hotel (also known as Archibald's Hotel) where they all stayed. On one occasion, her brother Bob had the privilege of riding with Amelia Earhart.
Her earliest recollection of wanting to fly centred around a radio programme about a young pilot called AHowie Wing". Her prize possession was his picture dressed in appropriate flying attire, looking very handsome standing by his aeroplane. She received the picture by saving and sending box tops to a local Margarine/Butter Company. Other incentives were pilots in the family and working in the airline/travel industry.
During the war years, Phyllis went to Acadia University in Nova Scotia, returning to work with the Navy, both RN and RCN. After the war in 1946 she went to Gander Airport, Nfld. It was then known as "the cross roads of the world" and she was hired at KLM Royal Dutch Airlines as a Ground Hostess/Secretary to the Station Manager. She flew occasionally as extra crew to help with all the Dutch Immigrants and their babies travelling to the U.S.A. The babies travelled inside wicker baskets with windows that were placed one on top of the other in the rear of the plane.
It was inevitable that Phyllis Penney joined the small local Flying Club "Terra Nova Aviation" and took up flying. Her Student Pilot's Permit was issued from the Dept. of Public Works in St. John's Nfld., under the Air Navigation Act (1929) valid for one year from April 29, 1947. She solo'd in a Piper Cub, call sign VO-ABC on July 15, 1947 and received her Pilot's Licence on August 10, 1947. Her Instructor was Ewan D. Boyd.
There was much jubilation at the Flying Club when she got her wings. There was a party, with her fellow students, including telegrams that warned her about the dangers(!) of flying, but sent love and congratulations. Phyllis went on to get checked out in a Tiger Moth on land, water and skis. In 1950 KLM transferred her to Montreal International Airport, at Dorval, PQ, where her private flying was put on hold because of traffic density and expenses.
In 1952 Phyllis married Richard M. Gaul. He had been with Ferry Command in Gander during the war, then flew with TWA afterwards. He was also a graduate from the Terra Nova Aviation Club in Gander and when they met was working in Operations for BOAC in Montreal.
In 1957, Phyllis resigned from her job with KLM and was busy raising a family of four, 2 daughters and 2 sons – a most rewarding trade-off for private flying she said. In 1972 she went back to work for a Travel Agency and was once again involved with airline transportation and travel. (She still had the cockpit in the back of her mind)
Phyllis and Richard moved to Vancouver in 1986. Richard was involved with building Canada Place and the organization of Expo> 86. Following that they opened a Travel Agency, affiliated with main land China and once again aviation was an important factor in their lives.
In 1993, Roger Pike, President and CEO of Labrador Airways honoured Phyllis Penney Gaul by flying her back to Harbour Grace for the dedication ceremony of "The Spirit of Harbour Grace" a 1943 DC 3 given as a gift to Harbour Grace by the Pike family.
In 1997, both Phyllis and Richard returned to Gander Airport for a wonderful 50-year reunion of airlines/airport employees. Both were given celebrity status on that occasion. They are retired now, living in West Vancouver overlooking the water. They watch the cruise ships and freighters going by, also many helicopters and float planes shuttling to various islands from Vancouver. They have many fond memories of their adventures in aviation and their lives that spanned a Continent from the Atlantic to the Pacific.