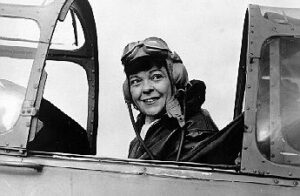 Marion Alice Powell was born in Toronto, Ontario on June 25, 1918 and learned to fly in 1939.  Marion was the youngest of five girls.  Fascinated with planes and flying at a very early age, she read everything and anything on aviation.  She spent hours on the proof of the house watching for planes.  A two-seater swing in the garden became her "flying Machine".
Marion left home at the age of 15, her education barely completed to Grade 8.  She wanted to fly so badly, it became an obsession with her.  She earned $10 a week in a factory, went without food and the necessities of life to scrape together the six dollars an hour to take flying lessons.  Her first lesson was on April 22, 1939.  Her instructor was Pat Patterson.  After seven hours and 50 minutes, Marion soloed in a 40 hp Cub (CF-BIT) on June 9, 1939.  She received her Private Pilot's Licence No. 3338 on Jan. 5, 1940 and never looked back.  (Even a serious helicopter accident didn't dull her love for flying)
Marion knew then that without a doubt she was "born to fly".  Her life would be in the air or at the airport!
By the time Marion got her Commercial Licence No. 2029 in December of 1941 at Barker Field, she had accumulated time in the Fox Moth, Taylorcraft, Fleet Finch, Fleet Fawn, Stinson 105, Stinson Station Wagon, Fairchild 24 and Cub Coupe.  Instructors were training US and Canadian pilots.  All civilian flying slowed down.
Marion met and married one of the instructors, D.K. "Deke" Orr, who helped her financially with dual and getting her instructor's rating, which she received at Trenton RCAF base on Sept. 25, 1942.  unfortunately the marriage broke up shortly afterwards.
On Oct. 2, 1942, Marion was hired to be the manager and chief flight instructor at St. Catherines Flying Club.  She was the first woman in Canada to operate a flying club.  This airport also had one of the Elementary Flying Training Schools for the RCAF.  It was a short-lived posting for Marion.  There was a disastrous fire and five aircraft were destroyed which hastened the inevitable closing down of civilian flying, due to the outbreak of the Second World War.  Exactly one month later, Marion was hired at No. 12 EFTS at Goderich, Ontario as a control tower operator.  She was the second woman to be hired on a trial basis.
Marion's heart was still in the sky, she even wrote to the US and tried to join up with women ferrying planes there, but like others before her, without being an American citizen, there was no chance of qualifying, even with her training and experience.
The RCAF turned her down flat, they hadn't even considered hiring women instructors!  Then a call came out of the blue from Vi Milstead, a close friend with whom she had flown many times at Barker Field, to say that British Overseas Airways Ltd, was hiring pilots for the Air Transport Auxiliary to ferry military aircraft for the RAF in England.  A lifelong dream was about to come true.  Requirement was 250 hours flying time and a valid licence with checkouts on a Harvard AT-6 training in Montreal.
Marion and Vi left together in a troop freighter by convoy from New York in the winter of 1943, not knowing for sure what they would be flying in the United Kingdom, or where.
They knew they just wanted to fly!  There were five Canadian women who flew operationally in the ATA.  After preliminary training at ATA headquarters, the women were posted to various military bases in England.  Aircraft types were usually taken in sequence.  For example, 32 flights in a Hurricane were mandatory before flying a Spitfire.
Types flown included:  Miles Magister, Hawker Hart, Piston Tudor, Miles Hawk, Oxford, Harvard, Master Martinette, Hurricane, Proctor, Lysander, Swordfish, Spitfire, Seafire, Defiant, Osler, ..
Introduction to a new aircraft usually consisted of the run-down on the cockpit layout and study of the "Blue book", a compendium of notes all types of aircraft.  The pilots worked two weeks straight, with four days off, flying in all kinds of weather and usually taking off regardless, as long as the destination conditions were reasonable.
Marion admits she got lost regularly.  All the towns looked alike, railways twisted around like spaghetti, balloon barrages all over the sky, camouflaged airports, dummy air bases and then there was the British weather to contend with: fog, smog, smoke, rain and haze.  They had to fly VFR, with no instrument training or radio facilities.
Happiness to Marion was flying every day, sometimes 8 flights a day, 4 or 5 different aircraft, connecting deliveries to military bases, factories, maintenance and repair depots, some times using Fairchild 24s as "taxis" for the male fighter and bomber pilots between their bases.
In two years she covered most of England and Scotland.  Her favourite airplane was, without a doubt, the Spitfire.  She found it light, graceful, easy to handle and "the most beautiful plane ever built."
In 1945, Marion returned to Canada.  The war was over, there were a little over 100 women pilots in Canada at that time, so it was back to civilian instructing at Gillies Flying Service at Buttonville, north of Toronto, Ont.  In 1946 and 1947 she instructed and flew charters at Barker Field and Toronto Island Airport on wheels and floats.  During that time, she was also trained as an aero mechanic.  Marion bought Aero Activities Ltd at Barker Field in 1950 and became the first woman in Canada to own and operating a flying club.  The property was sold and eventually in 1954, she moved her school to Maple Ont.
She literally lived on the field, building and leveling the property with the help of friends.  It was, she said, one of her greatest achievements.  The obstacles were enormous, from the sheer physical effort of building runways to the almost overwhelming opposition from local residents against the licencing of an airport.
After receiving little or no encouragement from the Department of Transport, she borrowed money to go to Ottawa to enlist the personal help of former Primer Minister St. Laurent to assist her in the battle for the airport, which he graciously did.  The grand opening of Maple Airport was in 1955, with two grass runways, three instructors and five planes.  It was complete with an air show that included three Fleet Canucks flown by 3 women: Marion, Sally Wagner, Helen Hems, all well-known Canadian women pilots.
Five years later, Marion sold her business at Maple Airport and went to Markham-Toronto airport as manager and CFI.  There she found another formidable challenge and on May 16, 1961, she became the first Canadian women licensed to fly a helicopter (No. 36 Whirly Girl in the US).  She instructed on the Brantley B-2, Bell G-47, Cessna Skyhook, Hiller and Hughes 500.
It was at Markham that Marion had her first and only serious flying accident.  There had been a problem with the engine in the helicopter.  She was with a student at the time.  The engine failed and they dropped in hard.  Her passenger wasn't hurt, but Marion broke her back and was in the hospital for three months.
In June, the following year, while recuperating in Florida, she received permission from the FAA to finish up a dual helicopter private course for a friend, Mr. N. Overton at Tampa International airport.  In July 1962 she returned to Canada to teach at Donway Flying Services in Toronto on fixed wing aircraft.  The long hours of sitting in a cockpit took their toll and in 1963, she temporarily gave up instructing, but kept current by flying recreationally in Florida.  Twelve years later in 1975 however she renewed her rating and returned to Canada to teach flying once again at Buttonville for Toronto Airways Ltd.
Marion by 1981 had an instructor's rating, Class I with instrument endorsement, multi-engine, single engine land and sea and was a Designated Flight Test Examiner.
She taught flying at Toronto Airways for 10 years until her "retirement".  Two weeks later she decided retirement wasn't for her and she continued to teach, freelance.  She enjoyed a period of time at CFB Trenton Flying Club as their chief instructor and DFTE in 1984.  It was particularly nostalgic for her, being on the base, bringing back many happy memories of her wartime flying in the United Kingdom.  Another highlight was attending an ATA reunion in England for the 40th anniversary of that organization.  It was a sentimental journey back in time.  In 1985 she went back to teaching privately.
In 1986 she was at Lindsay Airpark as their CFI.  In 1987 she was at the Peterborough Flying Club instructing and being a DFTE.
Marion's achievement in aviation were awesome.  She grew up during the Depression and it was hard times for young families.  She was rebellious as a child and had this impossible dream of flying a plane that simply took over her life.  She set goals and once attained she found other challenges and spared no effort to succeed.  She worked hard but she was also a party girl who loved to dance and have fun.  She was very generous with her time and money when she had it.  She trusted the airplanes she flew, but was very cautious about people.
The Marion I knew was painfully shy in a crowd and needed constant support and reassurance.  But I understand she was a hard taskmaster in the cockpit and demanded 100% performance.  Public recognition came slowly for Marion.  She was presented with an Amelia Earhart Medallion in 1976 by Dorothy Renwick, Chairman and Historian of the First Canadian Chapter, 99s, who said "This was not only for her outstanding achievements in civil aviation, but also for her significant contribution to Canada's war efforts".
In 1982, Marion was named a member of Canada's Aviation Hall of Fame; the third woman pilot to be honoured.  She was inducted into the 99s Forest of Friendship in Atkinson, Kansas in 1989 (sponsored by Toronto Airways Ltd and East Canada Section, 99s).  She received the Order of Canada in 1993 at Rideau Hall in Ottawa, Ontario.
Marion's store was featured on CBC, "The Canadians", in August 2002 and was titled "Airborne".  It was very appropriate.
Unfortunately, Marion's health began to deteriorate and sadly in 1994 she lost her licence to fly.  The lady who had over 20,000 hours in the air and taught many future pilots, was grounded.  Her life was flying.
She was killed in an auto accident on April 4, 1995 in Peterborough.

Written by Shirley Allen