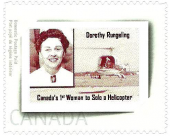 Once billed as "Canada's Flying Housewife", she dared to challenge convention and secured a place in aviation history. From her base at the Welland Airport, she earned her pilot's licence in 1949, followed by her commercial licence in 1951, instructor's certification in 1953, her senior commercial pilot's licence in 1954 and her Airline Transport Licence in 1958. She was the first woman in Canada to hold the ATL. In addition, she became the first Canadian woman to conduct a solo helicopter flight.
Her life-long passion has been to promote the safety of flying when private aviation was still in its infancy and to interest women in learning to fly. Now in her 100s, she remains active as a writer, having published two books in the last two years, and is an instructor of computer skills to senior citizens.
DOROTHY WETHERALD RUNGELING
(Article written by Shirley Allen)
Dorothy Rungeling- one of the first 99s, East Canada Section Governors Dorothy was one of Canada's most illustrious women pilots in the early fifties. She served as Governor, East Canada Section for two terms, yet very little mention can be found in the 99s International History books of this remarkable lady who opened many doors for women in aviation, particularly in the world of Air Racing. Dorothy owned her own motorcycle. She was active in trap and skeet shooting, she also trained horses. She held both Canadian and American horse show judging licenses. Then she discovered flying! After her first white knuckled plane ride with her husband and 4 year-old son in 1948, she signed up at the Welland Flying Club and soloed in five and a half hours, obtaining her licence P-237 in August, 1949. Her husband, Charles, who was her greatest supporter, gave her a 2-place Luscombe Silvaire 8A (cost $2,500 new, in 1949) which she traded a year later for a 4-place Piper PA 20 to fly her first long distance flight to Cuba in 1950, in order to build hours. There was no stopping her now, she got her Commercial Licence in 1951 and flew her first International Air Race, the Angel Derby, from Orlando, Fla. to Windsor, Ontario. Dorothy flew with many well-known Canadian women pilots – Lorna deBlicquy, Felicity McKendry and others. (The only other Canadian entry in the 1951 Angel Derby was Margaret Carson who won this race, with Betty McCanse as her Co-Pilot.) In 1952, Dorothy placed 2nd out of 25 entries, flying another Air Race from St. Augustine, Fla. To Welland, Ontario. She was involved in getting this and other International Races to come to Welland. In 1953 Dorothy got her Instructor's Rating and flew her Piper Pacer solo to win the Governor General's Cup A 26-mile closed course around 5 pylons off shore at the National Air Show in Toronto. (There were 10 entries, she was the only woman pilot.) She chaired all International Air Races which either started or finished in Canada – there were five. In the 1950s as a Flt Lieutenant, she taught aviation to the Girl Guides. She was one of three women in Canada to obtain a Senior Commercial Licence on August 19, 1954 In 1955 she added a multi engine Rating then flew a Tri-Pacer from Washington, D.C. to Havana, Cuba in another International Air Race and a Transcontinental Air Race (AWTAR) from California to Massachusetts (the only Canadian plane in the race) Dorothy placed 3rd in the Governor General's Cup that same year (1955) – again, the only woman pilot in the race! In 1956 Dorothy was named CANADA'S AVIATRIX OF THE YEAR" She won the Governor General's Cup for the SECOND time and flew two more Races, one from California to Michigan, another from Hamilton, Ont. to Havana Cuba.. She chaired the Race from Hamilton and received a Good Luck Feather from the Six Nations Tribe Chief. (She came in 4th) A formidable list of flying achievements! (N.B. The International Air Races listed above, were all limited to women pilot participants. Otherwise known as Angel Derbies, AWTAR and the famous Powder Puff Derbies. The Powder Puff was flown for the last time in 1976, Ska) Dorothy was now flying a Cessna 170 and a 172. Two years later she traded up to a Beech Bonanza G35 CF-KKD. January 23rd 1958 she was the first woman in Canada to achieve a Class I Instrument Rating, then an Airline Transport Licence YZA-815, she was the only woman in Canada with an ATL at that time. She topped off the year by going solo in a Bell G2 Helicopter after 4 ½ hours instruction. During these busy years, Dorothy Rungeling wrote about the Air Transport Industry in her weekly aviation column in the Welland Tribune. She wrote a series of "HOW TO FLY" articles and had many others published in Canadian and American magazines. Won a nation wide contest for Aviation Writing, run by the A.I.T.A (Airlines Industry and Transport Association) She was a well-known speaker at Rotary and Kinsmen functions. One of her dreams was to own a Charter Flying business at Welland Airport, but when it wasn't feasible she continued to boost aviation and started a crusade to get Welland air marked on the huge roof of Atlas Steels, near the Airport. This was the very FIRST air marking in Eastern Canada (1959) Dorothy's next mission was to SAVE the Airport which was running into severe financial difficulties. She was appointed Business Manager of the Flying Club. The Club survived and so did the Airport, flourishing to this day……. This intrepid lady pilot was truly the embodiment of all that COPA represents. In the Sixties, Dorothy continued to fly, but as she once said to me every now and then, one has to get "re-potted" and pursue other interests. Her flying licenses lapsed in 1975 and she traded flying for sailing, celestial navigation, politics and painting. The First Canadian Chapter awarded her an Amelia Earhart Medallion in the early 80's in recognition of all her many aviation achievements over the years. She was inducted into the International Forest of Friendship, Atchison, Kansas in 1999, sponsored by her husband before he died. This, she said, was the last of his wonderful gifts to her. Though she gave up flying years ago, she continues to write. We wonder if she's hoping to be offered lessons flying the space shuttle. Since turning 90, Dorothy has written and published 4 books,
The Road to Home, It's Fun to Grow Old
,
The Flying Housewife
and
The Life and Works of Ethelwyn Wetherald,
Dorothy's mother
.
During the past few years Dorothy has also continued to instruct, as she shares her computer skills and knowledge with other seniors. Dorothy "slipped the surly bonds" on February 17, 2018 at the age of 106 years. You can order Dorothy's and other women who played a role in our Canadian aviation history…
stamp page link here
Recent Submissions
The East Canada Section, Ninety-Nines are thrilled to celebrate these remarkable women with the custom postal stamps. All the stamps are available in four formats. With each order purchasers receive a brief bio which we encourage them to copy and send with correspondence when using the stamps. Domestic Postage sheets of 50 can be used as regular letter postage, even after future rate increases – $85. A booklet of 12 stamps is useful for those desiring a smaller quantity for regular letter postage – $24. The Keepsake sheet features 25 regular sized stamps plus one large stamp – $45. A limited number of First Day Covers are available for $7 each. They will be of particular interest to the stamp collectors among friends and family. Sheets of 50 stamps, Keepsake sheets and First Day Covers may be ordered directly on the
stamp order page
with credit card or by printing the order form and mailing it, along with a cheque, to Bev Fraser, Box 56060, Fiesta Outlet, Stoney Creek, ON, L8G 5C9. An additional $4 cost will be required for mail orders.
Please note that these stamps are not available at postal outlets.
Follow us!
Twitter
Facebook
Pinterest
Instagram
Linkedin