The annual Gold Cup Air Rally is NOT an air race but is a fun and challenging cross country air rally.
2018 GCAR Registration Form…click here
The 2018 GCAR will be from CYRO (Rockcliffe, ON) to CYSU (Summerside, PEI)
We will meet at CYRO Rockcliffe late afternoon Thursday September 13, 2018. The evening will be spend reviewing the flight route.
Planned departure will be early morning on Friday September 14 from CYRO for our destination CYSU Summerside PEI.
Saturday September 15 will be the alternate flying day and/or planned activities.
Sunday September 16 will also feature planned activities on the red dirt province, culminating with the banquet in the evening.
Monday September 17, for those interested and weather permitting, the journey will continue to CYGR, Iles de la Madeleine.
Fuel will be available on the GCAR weekend and there will be no landing or tie down fees.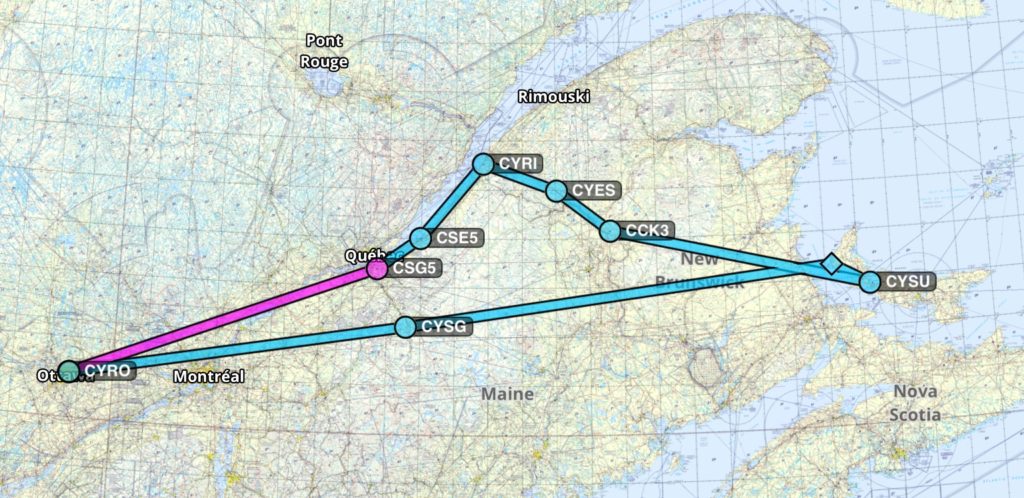 The Registration fee is $120 per participant, $60 for first time participants.
Accommodation in Summerside: a block of rooms at a group rate has been set aside with the Slemon Park Hotel, which is within walking distance of the runway. Please check their website www.slemonparkhotel.com
You may also wish to check out the diverse aviation community via the Slemon Park company website at www.slemonpark.com
All  99's and other female pilots are invited to join us on the Gold Cup Air Rally. 
Don't have an airplane, no problem, we can try to match you up with a pilot and airplane.
Past Rally experience is not a prerequisite. 
This is one of the most enjoyable events for women pilots held throughout the year.
The rally is open to all women pilots.
2018 SPONSORS
Aircraft Spruce Canada          COPA          Red Canoe Brands

View the slide shows from previous years….
Slide show video from the 2013 Gold Cup Air Rally to the Piper Museum, PA and Old Rhineback, NY
Slide show video from the 2012 Gold Cup Air Rally, Edenvale to Pelee Island
SaveSave
SaveSave
SaveSave
SaveSave
SaveSave
SaveSave
SaveSave
SaveSave
SaveSave
SaveSave
SaveSave
SaveSave
SaveSave
SaveSave
SaveSave
SaveSave
SaveSave
SaveSave
SaveSave
SaveSave
SaveSave
SaveSave
SaveSave
SaveSave
SaveSave
SaveSave