Canada has produced many inspirational female aviators throughout our past century and it is sad to learn about Daphne Schiff and Dorothy Rungeling passing recently.
DAPHNE SCHIFF: Daphne was such an inspiration to other female pilots….Daphne wasn't like most people. She raced around the globe in a twin-engine plane. She could pilot anything from a turboprop to a 737. She flew from France to Africa almost every autumn, even at 80 yrs old.
Does she feel she's done anything special, being a woman in the male-dominated world of flying and one of the oldest certified pilots in Canada? "No." Are people amazed by her? "People think I'm crazy – they're probably right."
Daphne earned her pilot's license in 1970 at the age of 46, and has flown in so many races – from the Round the World Race to the Transatlantic Air Race – that she's lost count.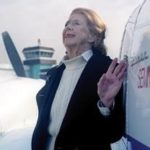 Daphne Schiff
DOROTHY RUNGELING: Dorothy Rungeling was one of the first 99s in Canada when the Ninety-Nines decided to expand internationally and selected Canada as the country to start with in their expansion.
Dorothy was one of Canada's most illustrious women pilots in the early fifties. She served as Governor, East Canada Section  for two terms. She owned her own motorcycle. She was active in trap and skeet shooting, she also trained horses. She held both Canadian and American horse show judging licenses. Then she discovered flying! After her first white knuckled plane ride with her husband and 4 year-old son in 1948, she signed up at the Welland Flying Club and soloed in five and a half hours, obtaining her licence P-237 in August, 1949. Her husband, Charles, who was her greatest supporter, gave her a 2-place Luscombe Silvaire 8A (cost $2,500 new, in 1949) which she traded a year later for a 4-place Piper PA 20 to fly her first long distance flight to Cuba in 1950, in order to build hours.
There was no stopping her now, she got her Commercial Licence in 1951 and flew her first International Air Race, the Angel Derby, from Orlando, Fla. to Windsor, Ontario. Dorothy flew with many well-known Canadian women pilots – Lorna deBlicquy, Felicity McKendry and others. (The only other Canadian entry in the 1951 Angel Derby was Margaret Carson who won this race, with Betty McCanse as her Co-Pilot.) In 1952, Dorothy placed 2nd out of 25 entries, flying another Air Race from St. Augustine, Fla. To Welland, Ontario. She was involved in getting this and other International Races to come to Welland.
In 1953 Dorothy got her Instructor's Rating and flew her Piper Pacer solo to win the Governor General's Cup A 26-mile closed course around 5 pylons off shore at the National Air Show in Toronto. (There were 10 entries, she was the only woman pilot.)
To read more about Dorothy and her aviation adventures, go to Canadian Women Aviators – Dorothy Rungeling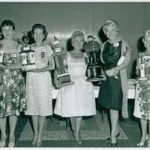 Dorothy Rungeling wins 4th place in the Women's Transatlantic Air Race, today called the Air Race Classic