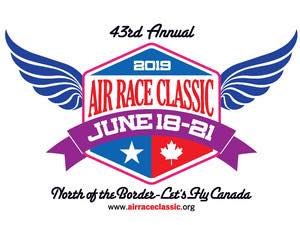 For the first time since it began 90 years ago in 1929, Ontario Canada will host the celebrations to end this prestigious racing competition. 

Registration for this auspicious event opened Jan. 2, and the 2019 Air Race Classic terminus committee is encouraging Canadian teams to compete.

The prestigious event costs US$590 to enter, which covers terminus costs in Niagara.
Let's get some Canadian teams flying this year, continue the tradition of FCC99s member Dorothy Rungeling in air racing!
The Air Race Classic is the epicenter of women's air racing. Pilots range in age from 17 to 90 years old. They come from a wide variety of backgrounds including students, teachers, doctors, airline pilots, business owners, professionals and air traffic controllers.
Race Teams, consisting of at least two women pilots, must fly VFR during daylight hours only and are given four days to make flybys at each en route timing point and then land at the terminus.
The race route changes each year, approximately 2,400 statute miles in length. with 8 or 9 timing points.
The race dates for 2019 are June 18th through June 21st